Brian's Book
Alone and blind at 29,000 feet!
Former Navy rescue swimmer Brian Dickinson was roughly 1,000 feet from the summit of Mount Everest—also known as "the death zone"—when his Sherpa became ill and had to turn back, leaving Brian with a difficult decision: should he continue to push for the summit, or head back down the mountain? After carefully weighing the options, Brian decided to continue toward the summit—alone. Four hours later, Brian solo summited the highest peak in the world. But the celebration was short-lived. After taking a few pictures, Brian radioed his team to let them know he had summited safely, and got ready to begin his descent. Suddenly, his vision became blurry, his eyes started to burn, and within seconds, he was rendered almost completely blind. All alone at 29,035 feet, low on oxygen, and stricken with snow blindness, Brian was forced to inch his way back down the mountain relying only on his Navy survival training, his gut instinct, and his faith. In Blind Descent, Brian recounts—in fantastic detail—his extraordinary experience on Everest, demonstrating that no matter how dire our circumstances, there is no challenge too big for God.
Buy the Paperback: Blind Descent: Surviving Alone and Blind on Mount Everest
Kindle Version: Blind Descent: Surviving Alone and Blind on Mount Everest
ABOUT BRIAN DICKINSON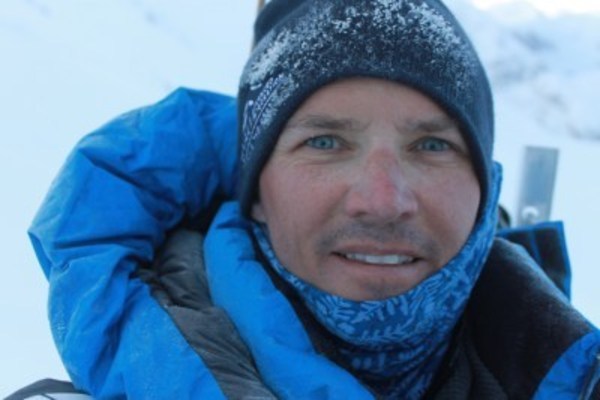 As a survival expert and former US Navy Air Rescue Swimmer, Brian Dickinson, delivers one of the most powerful experiences you will ever hear. His story exemplifies what it takes to face adversity and overcome impossible obstacles, leaving audiences inspired to conquer their greatest fears.
In 2011, Brian soloed the summit of Mount Everest, but then went completely snowblind on the descent. Hand over hand he made his way down blind and alone. What should have taken 3 hours to reach high camp, ended up taking him 7 hours. Brian took a major fall down the south summit and eventually ran out of supplemental oxygen, but through determined faith and focus he survived.
Brian's experience has been shared across the world. He's been featured on CNN, NBC, ABC, Fox News, Anderson Cooper, GMA, Success Magazine, Huffington Post and countless other news agencies. Several reenactments have been filmed, including CBN, NBC and the Weather Channel. Brian's survival story is also due to release in an upcoming movie series produced by KingdomWorks Studios.
Brian authored the book, Blind Descent, published by Tyndale House Publishers, which recounts his story on Everest. Blind Descent has been on the Amazon best sellers list multiple times and continues to be one of the top selling Everest survival books.
Read more about Brian: Brian Dickinson's Website
DISCLOSURE:   I only recommend books that I have read myself. Some of the links in this post are affiliate links, meaning, at no additional cost to you, I will earn a commission if you choose to make a purchase. Thanks for your support of this blog.
I'd love to hear from you!  Leave a comment for Brian and let us know of personal challenges you've overcome–and how did you do it?
Penelope Silvers is founder of PhilosBooks.com,
where Independent Authors are introduced to the World!
She is a freelance writer, publisher, and radio host of
Penelope's Book Chat on Blog Talk Radio