Trip to Arkansas—the Beginning
Recently, my husband and I embarked on our first trip to Warm Springs, Arkansas for his father's 88th birthday.
Arkansas is home to two mountains, former saxaphone-playing President Bill Clinton, country singer Johnny Cash, and a host of other celebrities. Forty-seven hot springs flow from Hot Springs Mountain, at an average temperature of 143 degrees. And did you know 15 meteorites have been discovered in Arkansas? This was news to me, too.
Furthermore, Ernest Hemingway wrote parts of his classic novel "A Farewell to Arms" at his studio in Piggot, his wife's hometown. For more of 50 fun facts you didn't know about Arkansas, visit Movoto.com.
Google Says 13 Hours
Keeping in mind this trip was to be 13 hours—acccording to Google maps—that didn't sound so terrible. Of course, we stopped about every two hours for bathroom breaks, walkabout breaks, food breaks, and just plain "I'm tired of this" breaks. All this added hours to the trip, but the main reason it took so long was because we just got plain lost. What was supposed to be 13 hours turned into 30!
Certainly, you're never to lose your way in the era of the mighty GPS. Right? Wrong! GPS's are made to be updated, and if you have an outdated one (or not), sometimes they meander you through cow pastures or perhaps right off a cliff if you are truly unfortunate. Take the story of a trucker who wandered the Oregon Woods for four days because of a GPS fail. No kidding. Check it out on Bloomberg.com.
Armed with Google Map
Armed with my printed Google map tweaked and honed down to 13 hours and 30 minutes for travel perfection and the fastest route, we sped up I-75 North through Florida to Atlanta, then a straight shot over to Birmingham, Alabama, on I-20 West.
If you want scenic, this is not the route for you. I-20 West morphed into I-22 and seemed to stretch on into eternity. Through twists and turns we drove into Missisissippi and through a bit of Memphis, over bridges and dales, then finally into Arkansas. We were actually doing extremely well, considering two hours sleep in a rest stop inside of Mississippi that was home to "Stand by Your Man," Tammy Wynette, and of course, the king, Elvis Presley.
The Longest Interstate—Ever
I figured we'd traverse the last 200 miles with ease. Not so fast, bucko. Once we finally shed the endless I-22 and arrived in Arkansas, I was not impressed. I'm sorry if I offend ANONE who lives there, has relatives there, or LOVES the place. I was beyond exhausted, and this was the culmination of over 20+ hours of driving. Miles and miles of flat land stretched on, as farmers sprayed fields with pesticides gusting around in winds so strong they rocked the car. The ideas of tornadoes now swirled in my tired brain. Our trip was on track according to the printed Google map, but I'd long ago turned off the GPS because it was leading us willy nilly.
A Wrong Turn
Then we took a wrong turn. That was the beginning of more hours in the car, with a GPS that sent us off in other tangents and no map. At least we'd have been able to spot our location.
Just so you don't think us complete idiots, Ron's sister lives down a gravel road, and we did find a road with that name, but only later I found out there is ANOTHER road with the same name a mile or so further. Now how would we know that? A MAP! Which we did not have.
So, after moving out of the Kansas, (no Arkansas!) flatlands, we finally arrived in the foothills. If I wasn't so beyond exhausted from NO SLEEP, and buzzing from being inside the car for a mere 25 hours at this point, I might have oohed and ahhed, but I just wanted a bed!!
I knew we were close from the directions Ron's sister gave, but we still couldn't find the red tin-roofed house or church sign, or the big green nature preserve sign located on a gravel drive, nor the Y that if reached, indicates we have gone too far.
Note to self: Never again will I take such a long trip and not locate a Motel 6 for AT LEAST 6 hours of uninterrupted sleep without lights flashing in my eyes or trucks rolling in and out.
Enough is Enough
Did you ever get to a point where you say, "That's it! I can't take it anymore! We did. We'd had enough and finally drove back to Pocohontas, where we sat at the end of the Walmart parking lot, and tried to figure out our options. Another problem is his sister lives in extremely remote area that doesn't receive a cell phone signal. She drives to the church we were supposed to find and checks messages there. Our calls, one after another, were shooting straight to voicemail, and frustration was mounting. Honestly, we were almost ready to turn around and drive home. Fighting back tears, I prayed.
After praying and closing my eyes for a brief rest, she finally called. We gave it one more shot. Up the road we drove, the scenery changing from flatlands and howling winds to green and lush rolling foothills, and picturesque streams.
Finally! We Made it!
Finally, the landmarks appeared one after another: the church sign on the correct, double-named road, the red-tinned roof across the street, a gravel road, the graveyard, and sitting in the stone church parking lot sat a red minivan with his sister inside–an oasis in the desert. What a relief, and the end to one leg of this trip. Even without a map, there's no easy way to get through five states to the tip top of Arkansas. However, no map, more miles.
Two Days in Arkansas
Our plan was to stay a couple of days and head back. We'd missed an entire night's sleep, so pushing through exhaustion we visited, talked, ate dinner, and pried our eyes open to stay up past seven p.m. We had a birthday party the next day for Ron's dad at their favorite restaurant back in the flatlands. We then began the long trip home about 6 p.m. Saturday night.
Before driving too far, we stopped at the Black River Overlook in Pocohontas,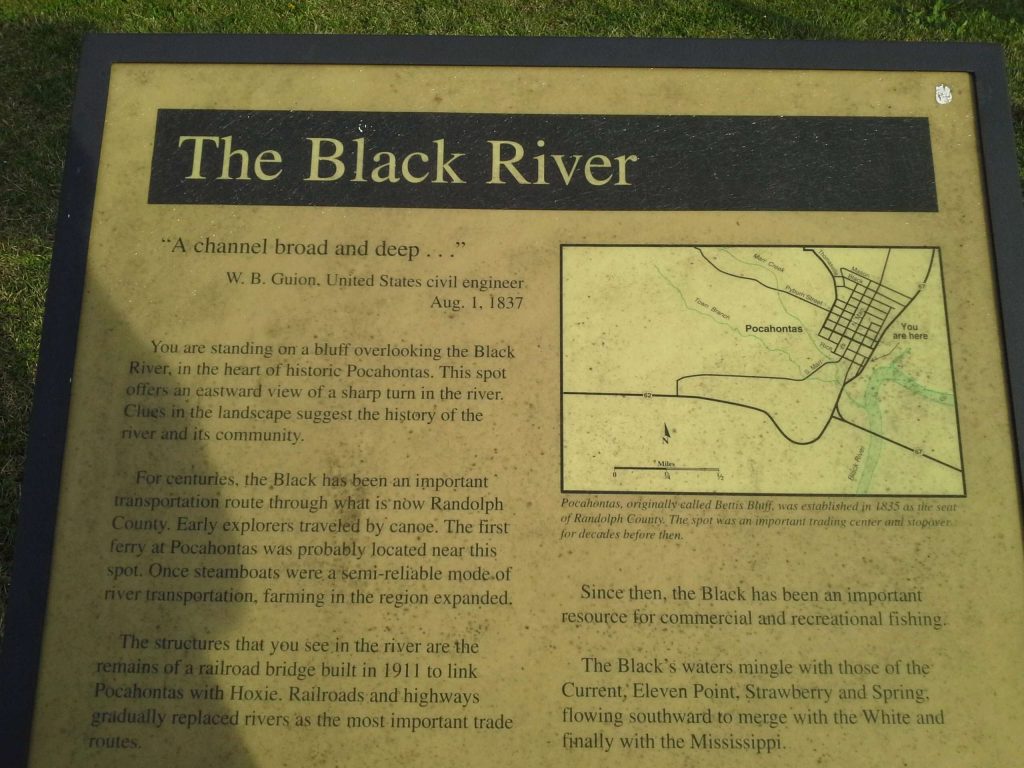 which had a monument of the Indian princess herself.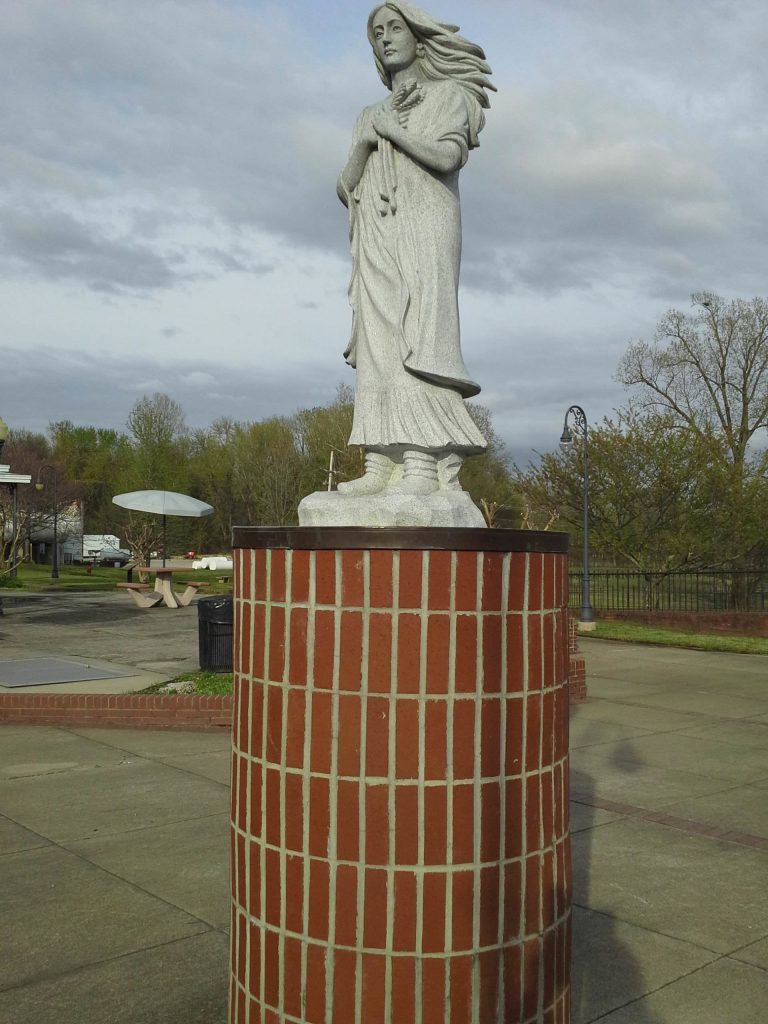 As well as being rich in Civil War history.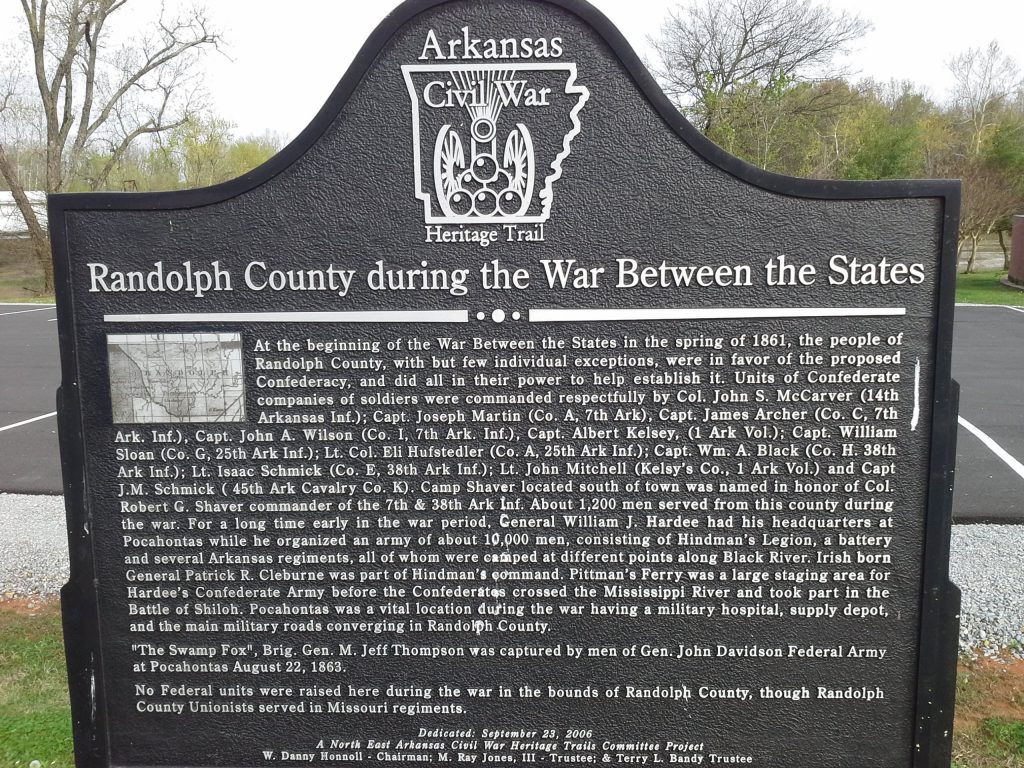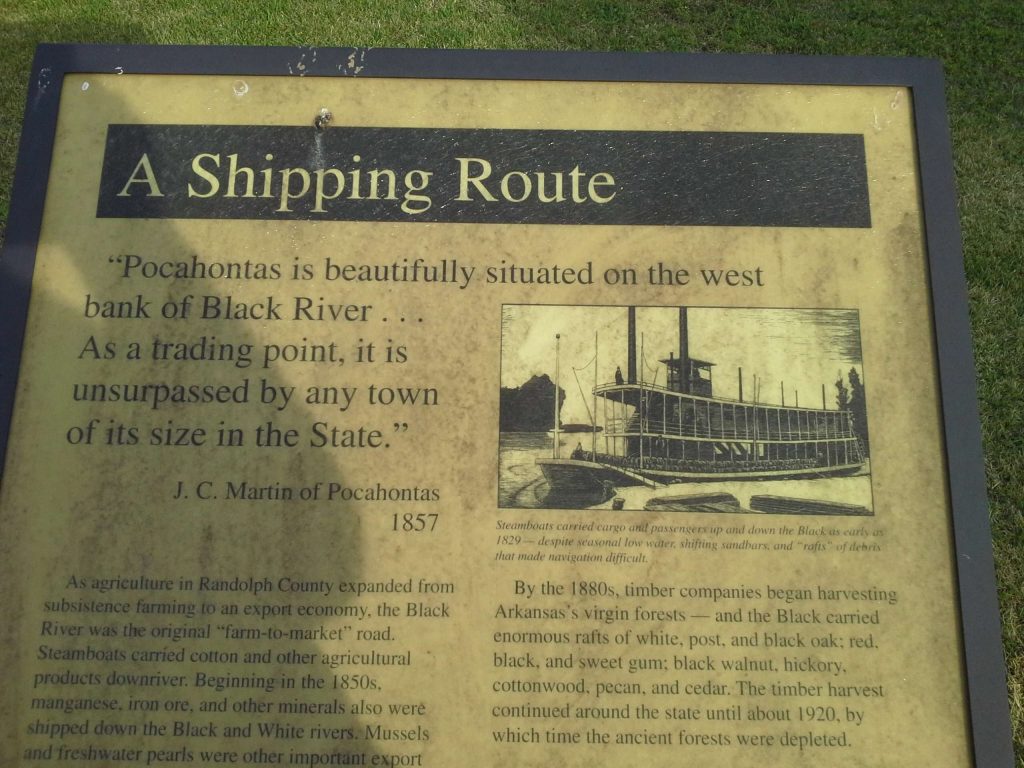 There were also three walls featuring images of the 100 most influential Americans of the 20th Century.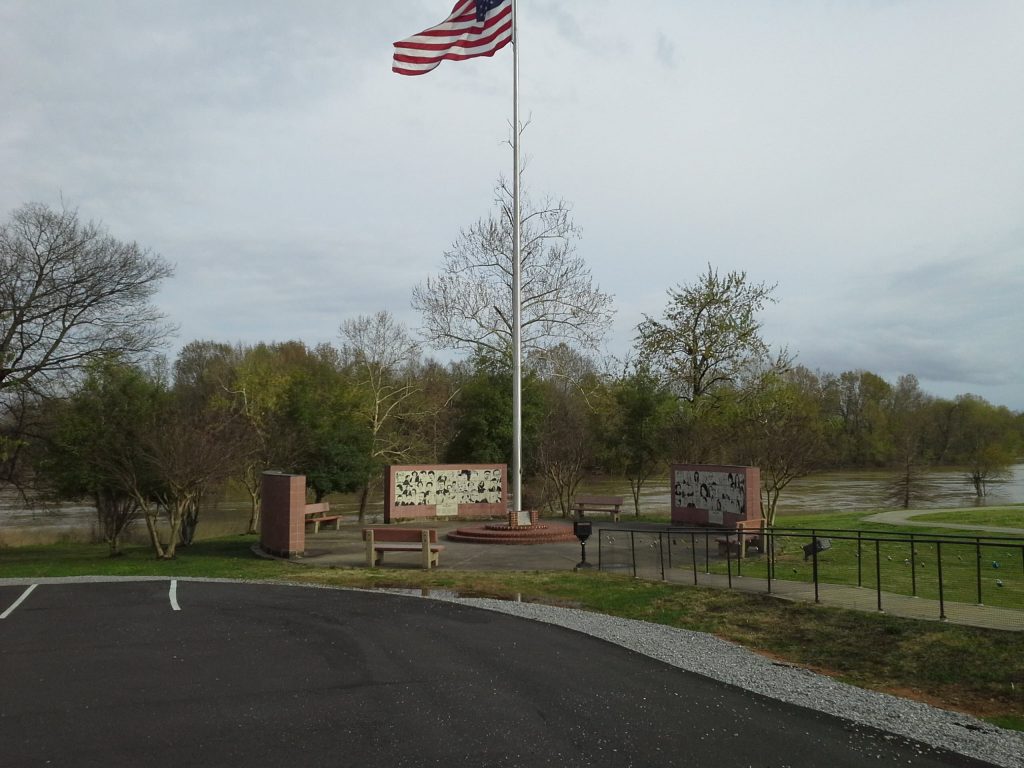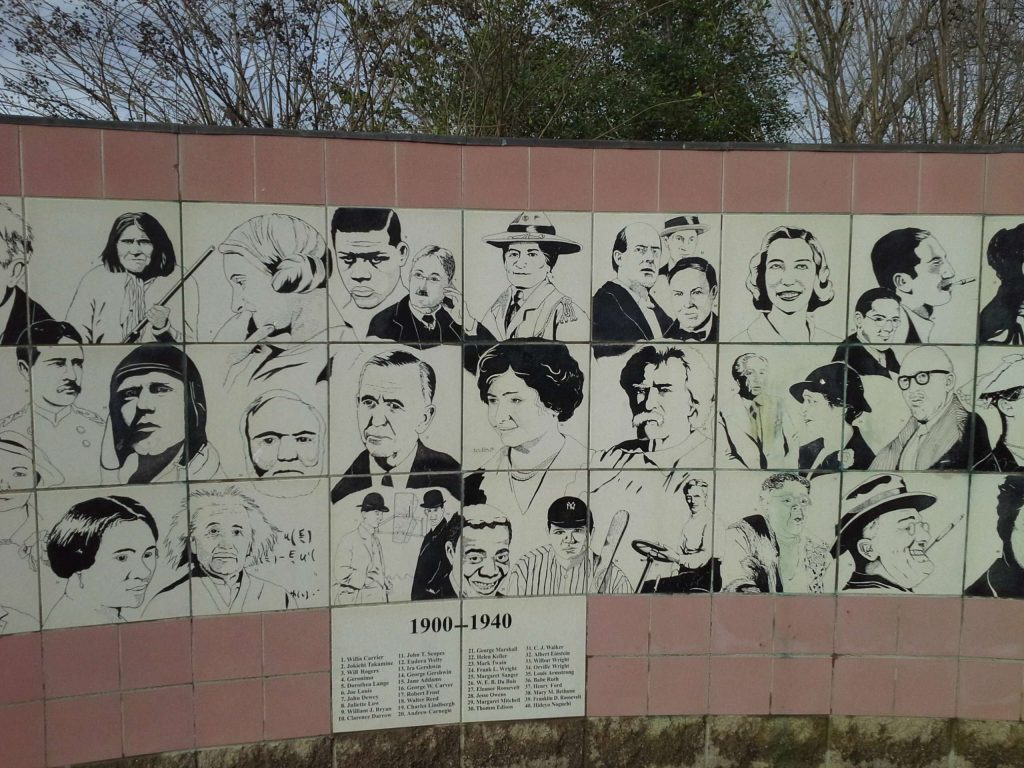 A lovely spot it was. Very scenic and picturesque.The Black River in the background flowed fast and dark.
On a side note, I'm relieved we missed major flooding less than one year ago, where the levee was breached and the governor called out the national guard—a very serious situation indeed. You can read more about the Black River flooding here, here and here.
On the Road Again
I'll bet you think we learned our lesson from the first 30-hour trip, wouldn't you? But nooooo…..Our brother-in-law studied several maps, wanting to take us a FASTER way by cutting through five states at a diagonal instead of of straight over and down, which is the way we traveled from my orginal Google map. 
This new route was supposed to cut several hours off the trip. Did it? What do you think?
Instead of interstate, we were now taking a more scenic route, but sometimes going only 45 MPH, stopping for red lights, and driving up and down mountainsides. Once we were on this trek, we realized we had made a GINORMOUS mistake. Absolutely, positively, the interstate was the way to go, but it was too late. We at least wanted to know where we were, so we purchased an atlas! Worth it's weight in gold.
Deep Into Mississippi
After dark, a drive too far into deep Mississippi, scribbled directions from cashiers at Quik Stops (which I don't recommend), we pulled into our driveway at 12:30 a.m. on Monday morning. Remember, we had pulled out of Warm Springs on Saturday at 6 p.m., and here we are another 30 hours later. Straightaway, I dived into bed and didn't wake up again until 10 a.m. the next day.
Update
Two weeks later we're still recovering from this fantastical, 60-hour trip to the wild and wonderful world of Arkansas. In the final analysis, next time we'll be fully armed—with our new atlas—and updated GPS.
Have you ever taken a trip that didn't go as planned? Good or bad, I'd love to hear your story. Tell us in the comments.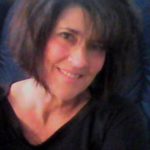 Penelope Silvers is a freelance writer, author,
and radio host of Penelope's Book Chat on Blog
Talk Radio. She lives simply and sanely on Florida's
beautiful nature coast.
DISCLOSURE:   I only recommend books that I have read myself. Some of the links in this post are affiliate links, meaning, at no additional cost to you, I will earn a commission if you choose to make a purchase. Thank you for your support of this blog.