I was first introduced to MOOCs (Massive Open Online Courses) through an excellent article by Author Marylee MacDonald. The acronym was new to me, and I wondered if it had something to do with hiccuping cows.
Alas, no belching cows are anywhere nearby, but an entire world of FREE online courses opened up to me in just about any subject your heart desires. Of course, writing fiction was the one I wanted to give a test run. Yep—there's one for that!
How Did MOOCs Begin?
Professors at Stanford, MIT, and McGill universities began an experiment. How students interacted in an online learning environment was the first, and a second experiment arose from professors studying artificial intelligence. The emphasis in MOOCs is still on computer and business skills, however, instruction in creative writing is also topnotch.
You can read more here about The Open University. Three non-profits offer free and cheap online classes. These are FutureLearn.com, Coursera.com, and edX.com.
Free How to Write Fiction Course
The Writing Fiction course is offered by FutureLearn Open University in the U.K. Eight weeks long, it's a self-paced little kick in the pants to move you in the direction of actually finishing several short stories.They offer a powerful new way to learn online, with every course designed according to principles of effective learning through storytelling, discussion, visible learning, and using community support to celebrate progress.
I've never taken any formalized writing courses except for reading through stacks of how-to books from accomplished authors such as Natalie Goldberg's Writing Down the Bones, Anne Lamott's Bird by Bird, and excellent writing coach James Scott Bell's Write Your Novel From the Middle.
You can self-teach for awhile, but I felt it was high time I put myself and my writing out there for critiques. It works both ways—you also get to critique the work of others.
Let me tell you, this is a scary thing. To put your writing out there for someone else to read and criticize according their own culture, tastes, experiences, etc. It wasn't as bad as I thought it might be, but still. I felt I was giving someone a knife and saying, "Here, just stab me right now and get it over with."
Who is the course for?
If you have an interest in starting to write fiction or improving your writing, this course is for you. You don't have to have any previous experience either. There were people signed up from all around the world, different ages and nationalities, and we all bonded by our desire to write and improve. The course is recommended for learners age 16+. You can read further here on why studying with Future Learn University works.
Instructor
The instructor throughout the eight weeks was Derek Neale, a novelist and short story writer. He coached us on the videos and then we also had access to a PDF transcript we could download and read. He was encouraging, funny, and right beside us through the entire ride.
What Can You Expect?
Right away, we were shown the importance of starting a writer's notebook that we carried with us everywhere. This was to record observations, feelings, conversations, clothing, or anything that sparked our imaginations. This notebook was for us to write our character sketches, and from those sketches short stories. We heard from several accomplished authors on video, and how they each used their notebooks to gather material for their works.
As we progressed, our stories were critiqued by classmates in a non-threatening manner, and we also did the same for them. I found the other students to be warm, welcoming, and fun. You can follow and be followed just like social media, so you meet and get to know others quite easily.
I really enjoyed the course, and the eight weeks flew by quickly. Set aside about three hours per week to keep up with the course and really learn from it.
My Stories
I wrote several short stories, but I'll give you a sampling of two I completed during the eight weeks. I hope you enjoy them: 
Sylvia's Story
 and 
The Pocket Lady. 
There is a part 2 to Sylvia's Story that will be posted soon.
Other Courses
If you'd like to join me, here are some other fascinating courses that may enhance our writing journey:
And just for fun:
Who knows? Exploring these courses might spark an interest in an entirely new career for you.
I'd love to hear from you! Let me know if you're thinking of signing up for Writing Fiction or one of these other free courses. Maybe we'll be classmates!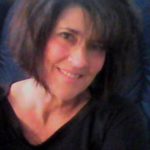 Penelope Silvers is a freelance writer, author,
and radio host of Penelope's Book Chat on Blog
Talk Radio. She lives simply and sanely on Florida's
beautiful nature coast.
DISCLOSURE:   I only recommend books that I have read myself. Some of the links in this post are affiliate links, meaning, at no additional cost to you, I will earn a commission if you choose to make a purchase. Thank you for your support of this blog.