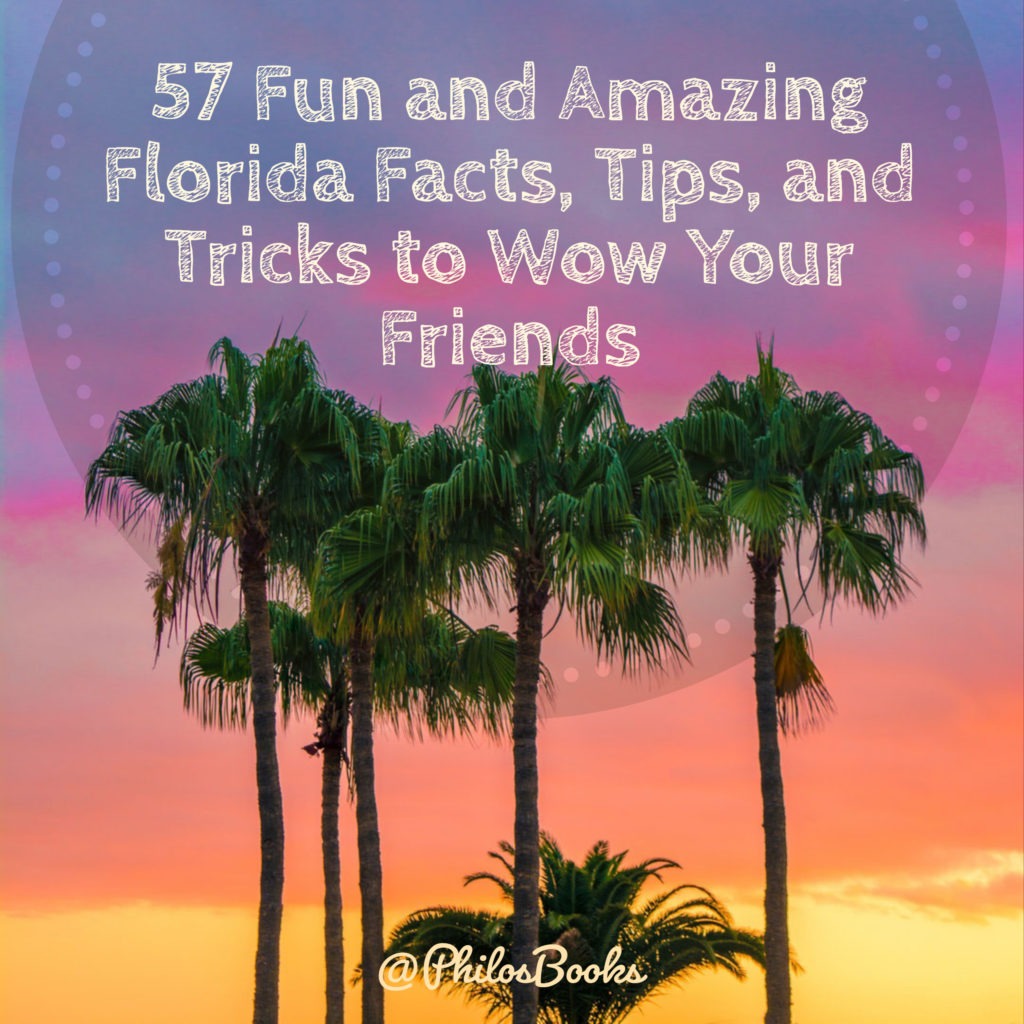 Living in Florida for 30 years, I've learned quite a few nice and not-so-nice things about my adopted state. Yep, we've got sun. And lots of it. Yep, we've got sand. And that's why you don't put in nice wood floors. Yep, we've got ocean on both sides. That being said, my preference is the Gulf of Mexico, which in my opinion, is more pristine and natural than the Atlantic side.
I love the year-round sun, and the ability to pack up a picnic and head to the ocean any time we please (which doesn't happen much any more). But, at least it's there. And when our hemisphere tilts away from the sun, and the weather gradually becomes cooler, that's when Floridians shout hurray! and we pour out of doors again. All summer long we huddle inside for air-conditioned relief, and come fall we are darn well ready for a change.
57 other things about the great state of Florida you may not know.
Florida's nickname is "The Sunshine State." Named because of its subtropical to tropical climate and annual average of 230 days with sunshine. Florida's nickname of the Sunshine State was officially adopted by the Florida state legislature in 1970.

Pensacola's nickname is the "City of Five Flags" because it has been under the rule of the Spanish, French, English, Americans and Confederates.

Pensacola has the National Naval Aviation Museum.

Tallahassee was once the site of a Talasi Indian village. It became the state capital in 1823.

The Saint John's River is the longest river in Florida, flowing north to south through 12 counties.

Click To Tweet

Florida is 58,560 square miles, of which 4,298 square miles are water.

Florida has almost 300 million orange trees under cultivation.

90% of the orange crops are used to make orange juice.

The Daytona 500 is a 500-mile-long Monster Energy NASCAR Cup Series Race held annually at the Daytona International Speedway. It is the first of two cup races held each year. The second is the Coke Zero 400.

Cape Canaveral is the launching site for the USA's space flights.

Ponce de Leon called the newly discovered land 'La Florida,' meaning 'the flowery place.'

Click To Tweet

Florida became a state in 1845.

The largest Marlin caught in Florida weighed in at 1,026 pounds.

The longest fishing pier in the world includes a portion of the original Sunshine Skyway Bridge and extends 1.5 miles into Tampa Bay.

Florida's state fish is the largemouth bass.

The gentle, slow-moving marine mammals known as manatees were once thought by sailors to be mermaids.

Florida has ocean on both sides, which means you can get walloped by hurricanes either way and had better be prepared May 15 to November 30. I wrote about our encounter with the mean-tempered Hurricane Irma here and here.

Wherever you go in Florida, you're never more than 60 miles from a beach.

The largest lake in Florida is Lake Okeechobee.

The official Florida state tree is the Sabal Palmetto Palm. Their fronds are sharp and will poke a hole in your finger if you're not careful!

The American alligator is the official state reptile. It symbolizes Florida's extensive untamed wilderness.

A Land Remembered has been ranked #1 best Florida book eight times in annual polls conducted by Florida Monthly Magazine. Written by Patrick D. Smith, his research weaves beautifully into the story of a fictional three-generation family who tamed this wilderness..

The Everglades are the only place in the world where alligators and crocodile co-exist.

Ft. Lauderdale is called the "Venice of America" because the city has 165 miles of local waterways.

Orlando is known as the theme park capital of the world.

Miami Beach pharmacist, Benjamin Green, invented the first suntan cream in 1944.

Key West has the highest average temperature in the United States.

Key Lime Pie, a tart-but-sweet treat, originated in the Florida Keys.

There are more than 1,300 golf courses in Florida—more than any other state.

You can only comfortably wear sweatshirts and sweatpants for a couple weeks out of the year.

Marjorie Kinnan Rawlings, the Pulitzer Prize Winning novelist of, 'The Yearling,' was the most famous resident of Cross Creek.

Click To Tweet

In late summer, you'll see spider webs everywhere—and banana spiders as big as your outstretched hand.

Be careful around pine needle piles! Scorpions like to hide there and surprise you.

The best type of flowers for planting are Vincas (perennials), and Plumbagos. They bloom constantly and need no maintenance.

The winter months are the best: October through April. Unfortunately, the snow birds (winter tourists) flock down here and clog our roads.

Best place for whole shells? Lido Beach (quiet), Sanibel Island (more touristy), and Venice Beach for shark's teeth. Watch for turtle hatchlings making their way to the sea.

Best remote tiny beach is Fred Howard Park Beach in Tarpon Springs.

Head to Tarpon Springs sponge docks for a great low cost trip. Watch the sponges being harvested and walk through some of the finest Greek restaurants, markets, and bakeries in the country.

Click To Tweet

Festivals run all year long, from north to south so check out this website's calendar of events

The state animal is the Florida Panther.

State bird is the northern mockingbird.

Inventions from Florida include the Snapper riding lawnmower, Gatorade, suntan cream in 1944 and mechanical refrigeration in 1851.

Clearwater is the U.S. city with the highest number of lightning strikes per person.

The manatee, found along the shallower shoreline waters, is the state marine mammal.

The dolphin is the state saltwater mammal.

Florida even has its own state beverage: orange juice.

Florida and its capital escaped major damage during the Civil War. The Union held most of the coastal areas, while the center of the state was held by the Confederates.

Early April begins alligator mating season, and males become very aggressive. If you see one in the road blocking your path, for heaven sakes don't get out of your car!

The Ernest Hemingway Home and Museum

in Key West

is home to approximately 40-50 polydactyl (

six

-toed) cats.

Real Florida can be found on A1A on the east coast, stretching down the entire eastern coast, and hopping from beach to beach for 328.9 miles. It runs from Key West at the southern tip of Florida, to Fernandina Beach, just south of Georgia on Amelia Island.

Orange Blossom is the official state flower.

Another spectacular drive is nicknamed the "magic carpet," via the Overseas Highway which takes you through a chain of limestone and coral islands, connected by 42 bridges. This drive from Miami to Key West is 113 miles long and one bridge spans 7 miles, with the Atlantic Ocean on one side and the Gulf of Mexico on the other. Watch this video for a little taste of what you'd see.

Ocala to Gainesville is indeed horse country,

home to more than 600 thoroughbred breeding farms.

There are oodles of secret hideaways that most tourists— and even locals—don't know about! I wrote about one here in far-off Mayo County.

You can cool off at the Florida Caverns State Park, an underground cavern near Tallahassee.

Sunsets are outta this world.
In conclusion, I hope you enjoyed learning about my beloved home state. Tell me some things you love about where you live in this world.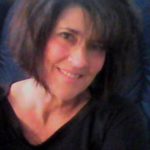 Penelope Silvers is a freelance writer, author,
and radio host of Penelope's Book Chat on Blog
Talk Radio. She lives simply and sanely on Florida's
beautiful nature coast.
DISCLOSURE: I only recommend books that I have read myself. Some of the links in this post are affiliate links, meaning, at no additional cost to you, I will earn a commission if you choose to make a purchase. Thank you for your support of this blog.